Welcome To TechtalkRadio
In this segment from 09/22/2014 on Fox 11 KMSB Daybreak, We wanted to share a couple of products usefull in backing up your idevices and your computer.

Our first product we looked at was the Vow Software LTD iBackupbot The Chinese based software developer has been creating shareware since 2002 and provides one of the best backup solutions for the iPhone, iPad or iPod.
We also look at Acronis which has developed a one touch solution for restoring your system after a drive failure in its backup solution. The Company recently launched Disk Director Version 12
More Video Segments →
Updated 09/22/2014

New Reviews Coming

We have got our hands on a copy of Sony Vegas 13 from Sony Creative Media. There are some new features for Workflow from other editing suites from other manufacturer, we'll take a look at some of these other features that make Sony Vegas 13 something to look at. Kingston Technology has sent us the latest in Solid State Drive technology, The SSDNow Series with many different capacities.

Planning a Website

Andy post some basic and general tips to think of when getting ready to talk to a web designer about building a website and how to take a look at your favorite websites from the past.
Read Now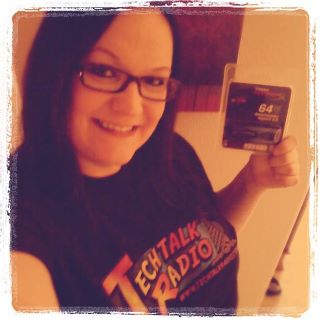 News Articles and Features:

VIDEO: Andy Taylor and the TechtalkRadio News Feature - Short, Quick and to the Point!


VIDEO: Andy Taylor on Fox 11 KMSB Daybreak with IronX from DXG and Reveal 11 from Muvee


AUDIO: Andy Taylor on the Scott Sands Show on WSPD Toledo Ohio


BLOG: E3, Microsoft and Call of Duty Advanced Warfare


NEWS: New Call Of Duty Advanced Warfare Trailer Premiere - With Kevin Spacey


BLOG: Are you a DVR Hoarder?


NEWS: Sprint moves forward with Network Vision in Tucson adding 4G LTE Speed


NEWS: Recycle your Apple Products and It Could be a Win


BLOG: Just How Much does it cost to Make the Galaxy S5?


Author J.A. Hitchcock shares some Online Dating Tips


Clean Your Computer Day Facts and Tips from iOLO Labs


TechtalkRadio is a production of The TechtalkRadio Network. The Show is produced each week from Tucson, Arizona.
The Radio Show is available for Air on Broadcast Radio, LPFM and Cable Stations across the country.
Click here for How to
Get our Weekly Podcast and VideoCast

Please check out our Podcast on the Podcast
Page and videocast on the Live Video Section. When we produce a new show, We videocast Live! Check back for a schedule soon!
Andy Taylor from TechtalkRadio currently features a regular segment on Technology, New Hardware, Software innovations and Consumer Electronics on KMSB Fox 11 Tucson. Previous to KMSB, Andy hosted the Tech Tuesday segment on KOLD CBS Tucson and featured looks at Technology as well as location interviews from events such as The Consumer Electronics Show and Photoshop World.
gOOD fuN
We have a blast during our segments on Live Television with Mark Stine on KMSB Fox 11 - Mark's running off with our speakers!
Different Tech
Our goal is to cover as much Tech from different walks of life as possible. It's not all Computers or tablets!
One of the hardest to send back
We do get to take a look at a lot of different products, usually 30-60 days but this was one of the hardest, Asus GTX780OCII
SlingBox 350
TechtalkRadio recently took a look at the Slingbox 350. The product has come a long way from the original Slingbox that TechtalkRadio looked at way back in 2005
"I love Techtalkradio. The show is very entertaining with great information on the latest gadgets and great tech tips too. You'll laugh, you'll cry, but mostly you will geek out!"–Mike S - Tucson AZ
TechtalkRadio is my go to source for tech related updates and new products. I trust these guys to give me insight before I go out and purchase or update existing hardware, software, or games.–Amanda P - Upland CA
Excellent show, good to know tech info–BarbARA G - Tucson AZ
Informative and thorough, I feel like I've learned something afterward !–Samantha B - Tucson AZ
"WLMNRADIO & TECH TALK RADIO...A great way to enjoy your first cup of coffee in the morning!"–Roger Black Program Director WLMN Radio - Grafton West Virginia