Justin Lemme of TechtalkRadio takes a look at the Cobra DSP9200BT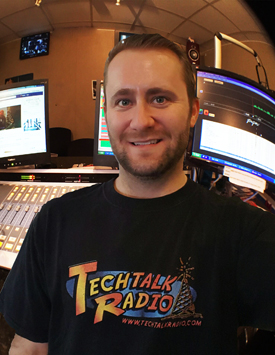 Cobra DSP 9200 BT Review
Justin Lemme
TechtalkRadio
April, 2016

When you think of Radar Detectors, the brand that most people would name is Cobra. Cobra has been making top-quality portable vehicle Radar Detectors since the early 1980's, although they have been around since the 1940's creating waves and major innovations in the tech industry. Cobra is probably synonymous with CB Radios (they invented them, when they were known as Dynascan Corporation) and Radar Detectors. Since the beginning, Cobra has had one major goal in mind: To create affordable, quality products combined with excellent customer service. And they hold true to that with the release of the Cobra DSP 9200 BT Radar Detector.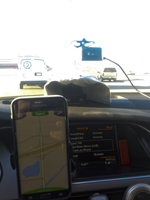 The DSP 9200 BT looks and operates almost like any other detector on the market, but it's what is under the hood (or behind the curtain, however you want to look at it) that really makes the DSP 9200 BT really shine. Let's take a look at the major features to find more about what makes this unit so special compared to other detectors.
DSP: Digital Signal Processing – This is a new advanced technology that allows for more precise notifications and filtering out the unwanted false signals that plague so many other detectors. I really disliked driving down the road with other manufacturers models in the past and being alerted every time I would come within 100m of a Mickey D's microwave unit or a Safeway grocery automatic door and the unit would start blaring at me as if it were saying "ERMAGHAD, IT'S THE POLICE...SLOW DOWN!!!" Yeah, that doesn't happen as often with this unit. Sure, nothing can be perfect, but this unit quietly sits there most of the time, albeit with a few false alerts (which I will address in a bit).

AutoCity™ -- Automatically switches you from City mode to Highway and vice versa based on speed data from your smartphone… (Wait…what?? Smartphone-what? … Ah, yes let me tell you what the BT in the name means!)

BT – The Cobra DSP 9200 BT is Bluetooth® enabled, and will connect to your Android® or iPhone® to give the unit more features like GPS positioning, community reports, navigation, and on-screen reports. I will discuss these in the next section.

QuietDrive™ -- This feature will activate a special muted driving mode for less audible feedback during times when you are talking with passengers.

360 Laser Detection & LaserRelay™ -- Early and accurate detection of laser-based threats and simultaneously relays that information to other Cobra users.

Collision Avoidance System (CAS) Immunity – False alerts can be generated from the CAS features found on newer vehicles. The Cobra DSP 9200 BT will eliminate those false alerts.

iRadar®Community -- This is where the product really shines. Through the integrated Bluetooth®technology, Cobra iRadar allows users to receive AURA® red light and speed camera trap notifications, threat areas and verified user-reported alerts of upcoming live police locations and other real-time traffic threat information. Think of it kind of like Waze® but in a focused capacity.

Packaging

The DSP 9200 BT comes in a very nice hard plastic case for carrying around when you are not using it. I found this to be a very welcoming addition to the product. I do not like to leave any valuables in my vehicle when I am not in it, so to have this nice carrying case made me very happy.

The unit comes with a cigarette lighter power supply (that has two USB ports on it…more to come on that later) and an extra-long Mini-USB cord to power the unit. It also comes with two different window/dash mounts. One is a suction-cup window mount, the other is a 3M®Brand Sticky-Pad with a metal frame to mount it to the window or the dash. I chose to use the suction-cup mount instead of the sticky, because I plan to move this from vehicle to vehicle.

Installation

When I went to mount the suction-cup to the window, I first cleaned my interior windshield with alcohol (I used an aged Double IPA….no, just joking) and then stuck the suction-cups to the window. I found that I had a lot of issues getting the suction-cups to stick to the window, even when the window was at room temperature. It took me multiple tries over a few days to make the suction-cups stick once and for all. I would like to see a better quality suction-cup with this unit, but that hardly should be counted against this amazing unit.

The Dual-USB Cigarette lighter power supply is nice, because I only have one lighter port and I have other devices that I wanted to power besides the DSP 9200 BT. I was able to get the unit connected and powered on with no problems.

Connecting it to my Samsung Galaxy S6 Edge +, however, seemed to be a bit of a challenge. I have to state a caveat to this part of the review, as I cannot place 100% of the blame on this part on Cobra since I have had issues connecting other Bluetooth®devices to my phone in the past, but this unit gave me more trouble than most so I believe that this aspect can be greatly improved upon in future releases. I was able to connect the DSP 9200 BT to my phone 5 out of every 10 tries. When it would not connect, I found that I had to restart the DSP 9200 BT and restart my phone completely before it would properly connect. I did find this frustrating, but still it is a feature that is worth a bit of hassle if you have the time to deal with it.

Operation

Driving around with this unit watching my back (and front) through the tough, crime-ridden streets of Denver, Colorado (ok, so it's not that bad here…but seriously, stay away, we have enough people moving here already) I found this unit to be pretty quiet for the most part, even when driving past good 'ol Mickey D's. At times, I did get alerts that were obviously false, but for the most part, the DSP 9200 BT did its job and only alerted me when needed. When an alert popped up on my phone while driving, it did give me an opportunity to press one of two buttons: Real Alert or False Alert. If I chose False Alert, it muted the unit so I could keep on driving in peace, but if I chose Real Alert, I suspect that it sends that information on to other iRadar users and allows their units to ignore such false alerts…but sadly, I am not sure if that is the case.

I usually drive the same path to work and home and even though with the iRadar community features and the GPS positioning data that is gathered when an alert report is generated, I find that every day I am getting the exact same alerts at the exact same locations, even though I press False Alert and the iRadar app tells me "Thank you for your report." It seems as if my reports are not getting through to other users, let alone my own unit. I would hope that after a few false alerts at the exact same location on the exact same frequency of radar that the unit would not alert me anymore since it should be able to determine where I am and the history of reporting false alerts. It doesn't seem to work this way though.

With the Real Alerts, it does alert me that someone has reported live police activity ahead, so that is very nice. I found it absolutely hilarious when I was driving along I-25 Northbound one sunny afternoon, going a bit over the speed limit (Editor's Note: In Colorado, if you are going the posted Speed Limit, you are going too slow. If you are going 10 over the posted, you are going with the pace of traffic. If you are going 15-20 over, you are going a bit over the limit) and when I got my alert that live police were reported up ahead, I immediately slowed down and got over into the right lanes, which of course ticked off a few people behind me, and they blared their horn at me as the blew past me…right into the radar of the Highway Patrolman who was sitting under the bridge…yeah, they got pulled over in quick fashion, and I couldn't help but laugh as I drove by (doing the speed limit of course), and thank my Cobra DSP 9200 BT for doing its job.

I also took a long, cross-country drive and used the 9200 BT during the entire trip in Highway mode. I was skeptical at first for Highway mode, since it is the most sensitive mode and being that I was getting some false alerts in City mode I figured I would be getting more alerts in Highway. I was pleasantly surprised to find that the unit didn't chirp at me once unless it was a real alert. And I must say that this unit is extremely sensitive when you think of the distance it can pick up radar. Travelling through Wyoming and Nebraska in the wide open prairie, the 9200 BT could pick up a radar from what I could guess would be 1-2 miles away. I did cruise along at "a bit" above the posted speed limit and when this would alert me, I had ample time to slow down before the radar came into registering distance. This saved me time and time again along my long trek, and that is what makes this unit so special. No other unit that I have personally tried has been this sensitive and on-point when alerting me.

Another cool feature of the DSP 9200 BT is that when you are connected to it via Bluetooth®, it would alert you with a voice prompt through your speakers if you have the car stereo turned to the AUX media input. The DSP 9200 BT also uses the newer Bluetooth® function, which means it doesn't need to be actively connected to your phone so you can still connect your phone to your car stereo or a headset while driving. When connected via Bluetooth®, the unit will pass the voice via speakers and not through the unit itself. If you are not connected to Bluetooth®, the unit will pass the voice alerts through the unit itself.

iRadar App

The iRadar app for iPhone and Android is a welcome feature to this model and provides a lot of extra functionality, if you can get it to work right. I found the app to be very basic and the overall design of the app seemed amateur at best. I really think that for a company as large and innovative as Cobra is, they could have done a much better job on the app itself.

My main gripes with the app deals with the Bluetooth® connectivity and the overall design. Like I stated earlier, I had many issues with getting the DSP 9200 BT to connect to my phone. I do not have this many issues with connecting other low-power Bluetooth® devices like my FitBit®or even BT-enabled speakers or my car audio system. I am confident that Cobra will release a better version of this app in the future, and it should not be a deciding factor in purchasing this unit, however it is a topic that needs to be discussed in this review to be fair.

I did find that sometimes when I would press the False Alert button in the iRadar app, it would not mute the unit, even when I would press the button on the unit itself it still blared away at me, prompting me to unplug the unit completely out of frustration. I believe this is partly due to the BT connectivity and also the app's poor programming.

The built in navigation feature is a nice gesture, but pales in comparison to other options such as Google Maps or Waze. I found difficulty in programming my destination, and once I did get it set, I didn't see the navigation lines very well and it didn't seem to give me any navigation voice prompts. I quickly found myself going back to Google Maps and Waze while driving. I couldn't keep the iRadar app active on my phone when using another app, it had to stay in the background. When an alert would appear, it would just give me a quick banner alert at the top of my screen, which I cannot easily read while driving. I would love to see the app take over the screen when an alert appears, and go back to the background once the alert has been dealt with by the user (I'm honestly not even sure if this is possible though with Android or iPhone, so I can't hold that against Cobra, it's just a wish).

The only other thing that annoyed me about the iRadar app is that once I chose to close the app, it still was running in the background and when I would pull down the list of my phone alerts, it would show the application running and when I would click on the app, it would take me to my Android Application Manager, where it would attempt a Force Quit of the application about half of the time (the other half I would have to initiate the Force Quit myself). I found this app to be draining my battery on my phone very quickly, despite a conversation with the engineers at Cobra telling me otherwise. I do find it annoying that an app that I have told to quit would still run in the background and make me have to do a Force Quit through the Android OS instead of just quitting when I closed the app. This needs to be addressed in a future release of this app.

Overall Conclusion

Cobra has long made excellent products, and the DSP 9200 BT stands up there with the best of them, albeit with a few shortfalls, mainly with the iRadar app. But with a hefty price tag of $399, combined with the fact that the majority of the features fall within the iRadar app, that is somewhat of a concern for me. Without the iRadar app, the unit is just another Radar Detector, but a very good one at that. If Cobra can come out with a complete redesign of the iRadar app that takes away the frustrations mentioned above, this product would be getting pretty darn close to a perfect review. But since the app is such an integral part of this unit, I have some reservations overall

Score: 7 out of 10

I still highly suggest you give the DSP 9200 BT a shot, as it is by far the best unit I have ever have used. The iRadar App hopefully will be updated to fix some of the issues I discovered.