Meet The Team
We Broadcast over the radio in Tucson and throughout the rest of the world Syndicated through the TechtalkRadio Network. Our business is both Radio and Television along with Video for you to view on our site.
We all come with broadcasting experience but the main reason we are here is to have fun and share and even learn from you the visitor!
Meet The Team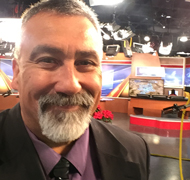 Andy Taylor
CEO and Producer/Host
Andy Taylor serves as Producer/Show Host for TechtalkRadio and is CEO of TechtalkRadio Network, LLC which produces the show for Radio and Television
The Radio Show focuses on Consumer Electronics and technology for the Personal, Home, Small Business and Mobile Markets. Andy Taylor also works as Morning Radio Show host to KGVY AM/FM and Afternoon Radio Host to KHYT FM Tucson. Along with the Radio Shows, Andy Taylor also serves as Resident Technology Correspondent on KMSB Fox 11 Daybreak with a regular bi-weekly segment featuring the latest in Consumer Electronics.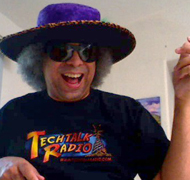 Slick
Co-Producer/Host
Slick serves as Co-Producer/Show Host for TechtalkRadio covering Mobile Platforms and Notebooks/Laptops
Slick has often been referred to on the show as the Man with the Hair. Slick's Trademark is just one of the reasons he stands out on the TechtalkRadio Show. His knowledge of marketing and promotions and the Tech World he has worked in supporting Microsoft and AOL is vast. Slick joined TechtalkRadio after months of calling in and sharing his thoughts and insights into technology after a few months the show moved to the Clear Channel/iHeart Media Group Slick was working at. Slick has been with the Show since 2007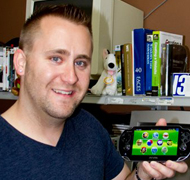 Justin Lemme
Co-Producer/Host
Justin Lemme serves as Co-Producer/Show Host for TechtalkRadio covering Gaming hardware and software for Consoles and PC
In the Scheme of things, Justin is one of the members of the show from it's days at KTKT in Tucson from back in 2002. Justin was the Engineer for the show and with his interest in Technology became an active member participating in discussions. Justin left after a short time and ventured to serve in the US Navy. After Justin's enlistment ended he took his skills from the Navy and began working in the Television Industry as a Network Engineer. He recently relocated to Denver with a large television network and continues to contribute on-air and on-line with TechtalkRadio.